E. Ann Wilson - Ann's family will gather at Jones Family Funeral Centre, on Thursday, August 6, 2020, from 1 pm until 2 pm to greet visitors, followed immediately at 2 pm by her funeral service, William Drysdale, DLM, officiating. Attendees are asked to wear a mask and respect social distancing. This is a public service, all are welcome to attend. Following her funeral, she will be laid to rest in the River Hebert Cemetery.
---------------------------------
As restrictions continue to lift, we are pleased to announce that funerals of up to 200 people can now take place, however we must still social distance. Having the largest chapel in Cumberland County, our chapel is large enough to accommnodate 50 socially distanced people, more with family bubbles. In addition to our chapel, three of our rooms have overflow as well, allowing for an additional 50 people. Live-streaming to the internet has always been available for those who can't attend.
In additon, our home has multiple entrances and wide open space for the passing through of visitors who wish to attend Visitations and Afternoon of Remembrances. We are allowed up to 200 people in the building at one time, but can accommodate as many as want to attend by keeping a smooth flow through our spacious home.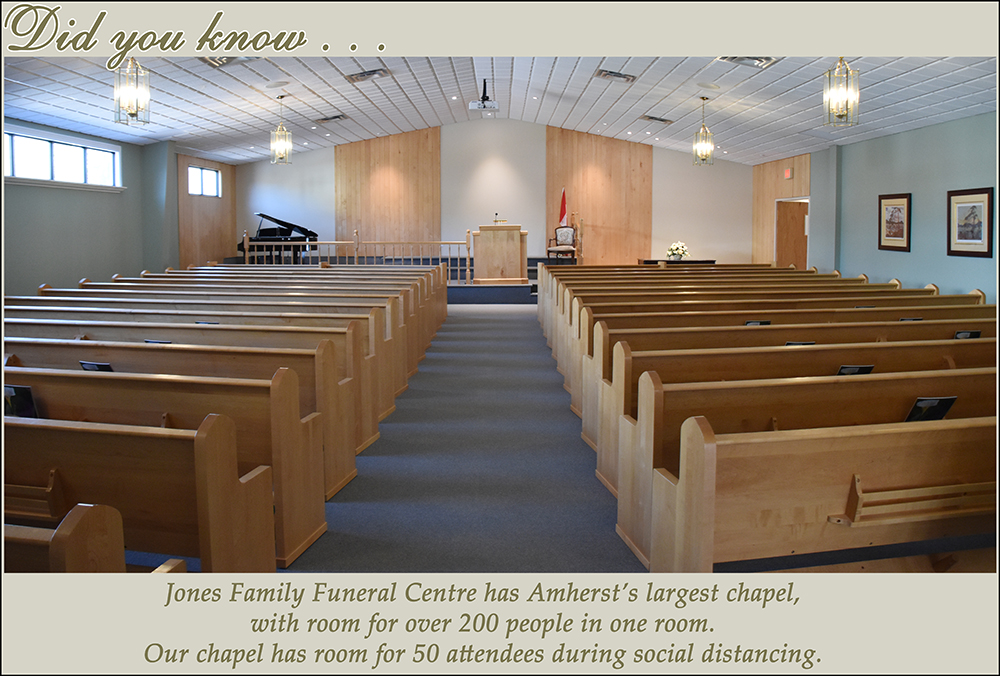 Complete Funeral and Cremation Services
Modern Memorial Tributes
Full Selection of Caskets and Urns
Keepsake and Memorial Jewelry
Largest in Cumberland County

Facility with seating for 500
Reception Centre
Parking Lot

Complimentary

Radio Announcements
After Care Program

Memorial Videos, Cards, Candle
Service Bulletins
Funeral Recording
Webcasting of Service
Preplanning Counsellor
Limousine Service
Christmas Remembrance Service